Which Type of Tummy Tuck is Right for You?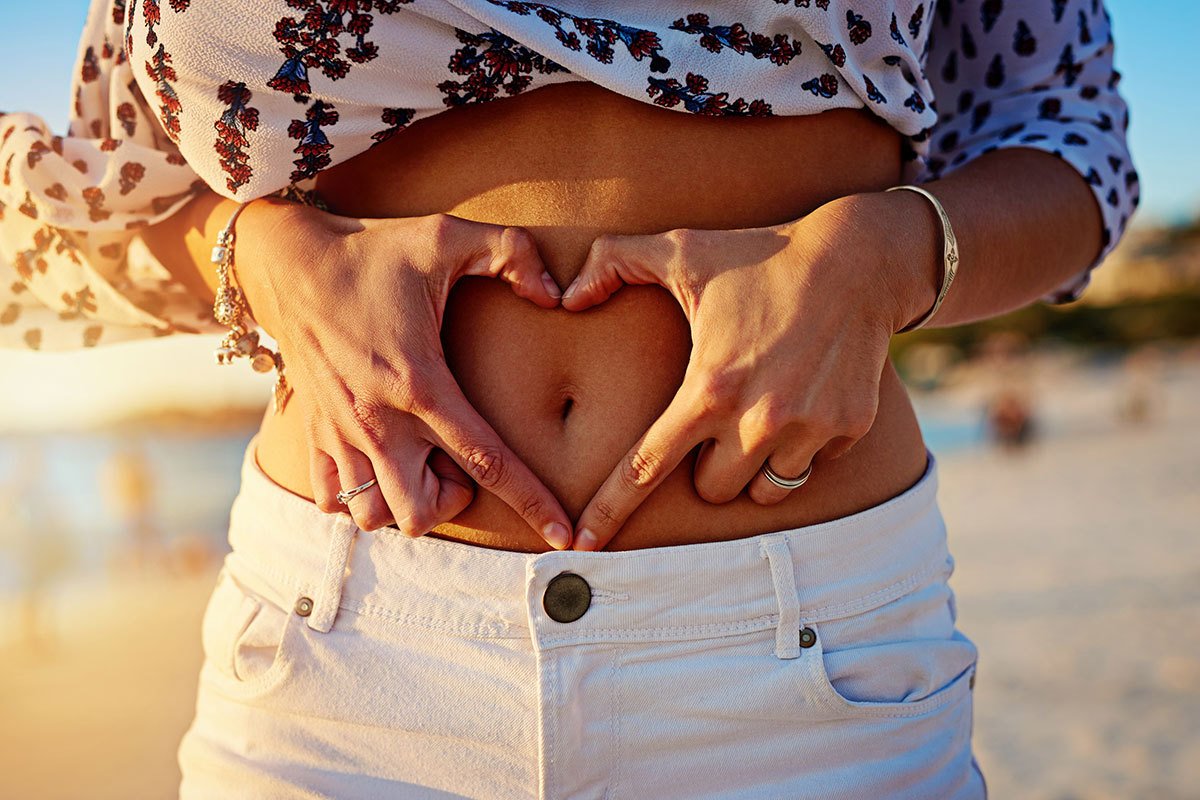 Tummies vary widely depending on age, whether or not you've had a child, and weight gain or loss, so it makes sense that tummy tuck procedures also vary. But with all of the different options available, how are you supposed to know which tummy tuck is right for you?
We offer four types of tummy tucks and two related fat and skin-reducing procedures, ensuring we have options to address your specific anatomy and concerns.
Whether you want to get rid of a bit of loose abdominal skin from pregnancy or weight loss—or lose fat and repair separated abdominal muscles—this post will explain which kind of tummy tuck and accompanying procedures are right for you.
What is a tummy tuck?
Before we dive into specific types of tummy tucks, it's important to understand what tummy tuck surgery generally entails. A tummy tuck, also known as abdominoplasty, is surgery to remove excess tissue and fat and tighten abdominal muscles. Depending on your body and tummy tuck procedure, your surgeon may use a combination of:
Skin excision to remove excess abdominal skin
A muscle-tightening technique to restore the abdominal muscles to a flatter, more even level
Liposuction to enhance results and get rid of excess fat
Tummy tucks are usually performed on patients who:
Have lost a significant amount of weight
Have given birth
Simply want a flatter and tighter stomach
They can also be combined with other surgical procedures to target fat and excess skin in nearby areas, like the thighs, buttocks, hips, and pubic area. We'll discuss these in more detail later.
What are the different types of tummy tucks?
At Hess Plastic Surgery, we offer four types of tummy tucks and two related fat and skin-reducing procedures, ensuring we have options to address your specific anatomy and concerns.
Traditional tummy tuck
A traditional tummy tuck does everything described above. It is seen as the total package when it comes to slimming and tightening your stomach.
You may benefit from a traditional tummy tuck if you are at a stable weight but have a protruding belly that refuses to shrink with exercise or diet, or have loose abdominal skin from recent weight loss or pregnancy.
Mini tummy tuck
A mini tummy tuck has many similarities to a traditional tummy tuck but is less extensive. For patients who only have problems below the naval, it is a great option. You'll enjoy a smaller incision and shorter resulting scar, and your recovery time will be somewhat easier.
The main difference between a mini and full tummy tuck is that a mini tummy tuck focuses on the lower stomach. The procedure is well-suited for mothers who have a relatively minor amount of abdominal sagging post-childbearing. In other words, if you are happy with your figure overall but want to get rid of the remaining "pooch" on your lower belly, a mini tummy tuck is likely to provide you with satisfying results.
A mini tummy tuck is not suitable for patients with significant sagging or separation of the abdominal muscles following pregnancy (diastasis recti), so if you have an excessive amount of fat and skin around your waist, a full tummy tuck is likely to be recommended.
Umbilical float tummy tuck
Umbilical float abdominoplasty, also called a floating tummy tuck, is a modified tummy tuck procedure that detaches the belly button from the abdominal wall in order to move it downward (hence the "umbilical" part of the name). Just like a traditional tummy tuck, an umbilical float flattens the stomach and tightens the abdominals.
You may be a good candidate for an umbilical float procedure if you have an unusually high belly button and a minimal amount of loose skin on your lower abdomen. While floating tummy tucks are fairly rare in the Fairfax area, Dr. Hess performs nearly as many of these procedures as he does full tummy tucks. He will discuss whether or not this procedure is right for you.
Lipoabdominoplasty
Lipoabdominoplasty combines tummy tuck surgery with extensive liposuction of the upper abdomen and flanks, reducing the appearance of love handles and back fat in addition to belly fat. Lipoabdominoplasty can provide a much more contoured look than either liposuction or a tummy tuck can achieve on its own.
If you're carrying excess fat and skin along your hips and waist and want to flatten and tighten your stomach, Dr. Hess will discuss lipoabdominoplasty with you. Please note that obese patients are not typically considered good candidates for this surgery, and may want to consider bariatric surgery as a first step.
What other procedures treat the abdominal area?
Dr. Hess offers a few other procedures designed for the lower abdominal area. These body lifting procedures target very specific areas of the lower abdominal pubic region.
Panniculectomy
If excess skin is more of a concern than underlying issues like diastasis recti, a panniculectomy—which removes the skin "apron" that hangs over your waist—may be a suitable procedure for you. Panniculectomies are typically performed on larger patients who are at risk of breakdown or infection of their hanging skin.
Monsplasty
As women age or give birth, their pubic area can become fatty and begin to sag, affecting the function of the vagina, as well as a woman's self-confidence. Monsplasty, also called a pubic lift, tightens the skin and tissue surrounding the upper pubic area, and removes excess fat via liposuction. If you are struggling to lose weight in your pubic area with diet and exercise, monsplasty may be a good surgery for you. A monsplasty can also be combined with a tummy tuck procedure.
Will my tummy tuck hurt?
A good surgeon isn't just skilled and knowledgeable—they're caring, too. That's why at Hess Plastic Surgery, we use a TAP block to reduce post-operative pain for our tummy tuck patients. Studies have shown that a transverse abdominis plane (TAP) block reduces the need for pain medication following surgery. It also provides more effective pain relief than medication alone and decreases the side effects of post-surgical pain medications.
How does a TAP block work?
A TAP block is performed by one of our licensed anesthesiologists to inhibit sensation in your abdominal wall. The anesthesiologist injects anesthetic between your abdominal muscles to numb the nerves that supply sensation to your lower abdomen, reducing most of the pain and discomfort normally felt after tummy tuck surgery.
Schedule your tummy tuck with Dr. Hess
Board-certified plastic surgeon Dr. Christopher L. Hess is well-known for helping women across northern Virginia and the DC area achieve flatter, more-toned, stomachs through a variety of tummy tuck procedures (just read his RealSelf reviews). To schedule your personal consultation with Dr. Hess, contact our Fairfax office online or by calling 703-752-6608.