Breast Lift Surgery
Restore a More Beautiful, Youthful Breast Contour
Breast lift surgery restores the breasts to a younger and "perkier" appearance by removing excess skin, lifting the nipple, and tightening the surrounding tissue. To further enhance the overall appearance of the breasts, this procedure can be performed in combination with breast implants.
Who is a good candidate for breast lift surgery?
A breast lift can correct a number of conditions, including:
Sagging breasts
Breasts lacking in firmness
Nipples pointing down
The above conditions tend to develop naturally over time due to aging and gravity, especially after childbirth, during which the weight of larger breasts may stretch the skin.
A breast lift can also help alleviate certain asymmetry problems, such as breasts that have positioned themselves at different levels. A breast lift is better suited for those with small to medium breasts, as the weight of larger breasts may work against the surgery recovery. In this case a breast reduction may be more appropriate.
Where are the incisions made for breast lift surgery?
A breast lift can involve three incisions: one around the areola, one vertical incision from the bottom edge of the areola to the crease under the breast, and one horizontal incision beneath the breast in the crease, following its natural curve. This is commonly referred to as the "anchor" incision. Newer techniques are used to remove the lower horizontal portion, giving a "lollipop-shaped" incision or with a limited lift just around the areola.
These incisions allow Dr. Hess access beneath the breast to remove excess skin and tissue, raise the breasts, and, if necessary, adjust the position of the areola and nipple.
Because excess skin is removed, a minor reduction in breast size may be traded for superior positioning and firmness. If you desire larger or smaller breasts in addition to a lift, a breast augmentation or reduction can be performed at the same time as a breast lift.

Breast Lift Breast Surgery Before and After Pictures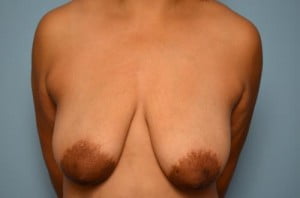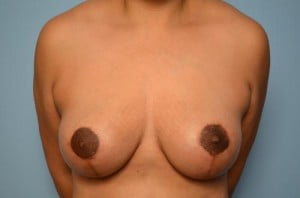 These images contain nudity.
Click to verify you are at least 18 years of age to view.
Can I have a breast lift before having children?
If you're planning to have children, you may wish to postpone your breast lift surgery until after you finish breastfeeding. While a breast lift does not generally interfere with breastfeeding, pregnancy's effect of increased breast size can work against the benefits of a breast lift.
During your consultation with Dr. Hess, it is important to be honest about your goals and realistic about potential limitations.
What is the recovery like following breast lift surgery?
Immediately after breast lift surgery, most patients experience mild swelling and limited discomfort. Dr. Hess will prescribe a pain medication to alleviate any pain or discomfort and may recommend that you wear a support bra for a few weeks.
Many breast lift patients are able to go back to work in as little as 3 days. It is important to remember that the full results may not be evident for several months as your body adjusts and heals.
Can I undergo a breast augmentation and lift during the same surgery?
Yes. Many women who undergo breast augmentation can also benefit from a breast lift. During the same operation, Dr. Hess places the breast implants in combination with a circumareolar breast lift. This technique uses an incision around the areola, avoiding the vertical scar that comes with the typical anchor-shaped breast lift incision.
Are you looking at multiple procedures?
Breast Lift is included in the list of procedures for the Mommy Makeover.
Schedule a Consultation with Dr. Hess
To learn more about your options for breast lift surgery, contact us at Hess Plastic Surgery to schedule a consultation. Dr. Hess will discuss your goals and concerns and answer any questions you may have.
Call 703.752.6608 to schedule your consultation with Dr. Hess.