Choosing the Right Breast Implants
Dr. Hess Can Help You Choose the Perfect Implants
Don't settle for "okay" breast implants—find the implants that fit your body and lifestyle! In my 16+ years as a board certified plastic surgeon, I have helped countless women achieve their dream breast augmentation results. Through thousands of personal consultations, one thing has become clear to me: ideal breast augmentation results start with helping patients choose the right breast implants.
As a RealSelf Top Contributor, I have noticed that it is surprisingly common for plastic surgeons to give their patients choices for implant volume and profile but actually choose the final implant size for their patients either preoperatively or in the operating room. I prefer to empower my patients to choose the implants that are perfect for their body type and desired results by giving them all of their implant options long before they reach the operating room. I am humbled to be able to spend significant amounts of time discussing sizing, texture, and profile options with my patients so that they know what implants they are getting without any surprises.
My patients may try on 15 to 30 pairs of implants before their surgery and this makes our practice very unique in the plastic surgery world. My goal is to ensure that all of my patients have the information they need to choose their ideal breast implants and are still thrilled with their breast augmentation results years after their surgery. To learn how I help my patients achieve this goal, read my 10 Must-Know Tips for Choosing the Perfect Breast Implants below.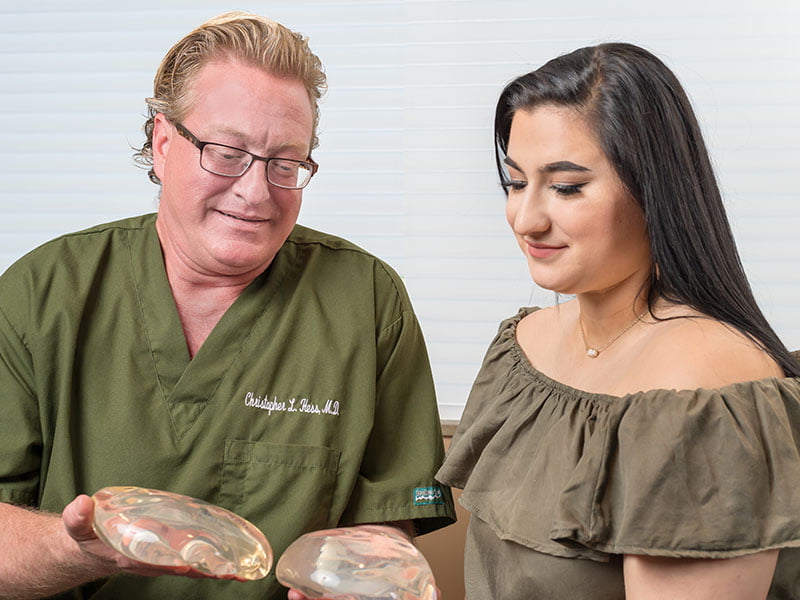 10 Must-Know Tips for Choosing Breast Implants
The decision to undergo a breast augmentation is very personal and often takes courage and conviction. Use that assurance to educate yourself so you can be a partner with your plastic surgeon in the choice of your new implants. By doing this, you can avoid postoperative disappointment and the potential for additional surgery.
In an effort to help all patients, here are 10 things patients should consider when choosing breast implants.
1. Don't Think About Bra Size
The most common request I hear during a breast augmentation consultation is "I'd like to be a 'C' cup." And, although I have come to interpret this as "I'd like my breasts to look like they fit my body," that may not mean you'll be a "C" afterward. All bra manufacturers size differently and therefore bras from different manufacturers will fit differently. You may be a 36 C in one bra and a 34 D in another. So don't worry about the bra size. If you end up as a "D" cup but are happy with the appearance of your body then the bra size is irrelevant. Work with your surgeon to determine the implants that give you the look you desire.
2. Know Your Body
Height, weight, body frame, shoulder width, hip width, buttock, and starting breast volume all need to be taken into account when choosing an implant. In general, as all of these areas increase in size (except starting breast volume) the larger the implant necessary to maintain proportion. A woman 5'3″, 110lbs with a small frame will typically need a far smaller implant than a woman 5'10", 145lbs with a large frame. It's not easy to stand in front of a mirror and take a very critical look at your own body. But doing so will greatly increase your knowledge and appreciation of your body and therefore your ability to choose the correct implant.
3. Personality and Social Perception
Whether you're an outgoing, Type A personality or a quiet, shy, Type B personality there's an implant that will enhance your body while maintaining the real you. It is important that you convey to your surgeon how you want to be perceived by the public. Breasts that are exceptionally large (even disproportionate) may be perfectly suitable for women in certain professions. But implants that create breasts that are proportionate will allow clothing to fit well, make you look great in a swimsuit or cocktail dress, all without diminishing your credibility at the office.
4. Exercise and Sports
If you're the type that likes to seriously sweat at the gym, run or bike extensively or do any kind of serious sport, then you have to consider the trade off between larger breasts and performing your activities at your current comfort level. This isn't to say that breast augmentation will limit your activities. But, larger breasts will feel different, need more support, and frankly if too large, could be cumbersome during workouts. You need to have a frank discussion with your surgeon concerning this. A smaller or lower profile implant may be necessary to achieve your goals.
5. Implant Style
All three FDA approved implant manufacturers (Mentor, Sientra, and Allergan) make low, medium or moderate, and high profile implants. As implants move from low profile to high profile, the amount of projection increases and the base diameter decreases for any given volume. For example, a high profile 400cc implant will have a greater projection and narrower base diameter compared to a 400cc low profile implant.
These implants can either be round or shaped (also called anatomic, contoured, or tear drop). Specially shaped implants are used in breast reconstruction; there is no need for them in cosmetic breast augmentation. Shaped implants provide shape when there isn't any, but have the potential to rotate causing problems. Additionally, shaped implants (and some round ones) have textured surfaces, which have been associated with breast implant-associated anaplastic large cell lymphoma (BIA-ALCL). The risk is very small, but something to be aware of.
In most cases, smooth, round implants can achieve a beautiful, natural enhancement. Additionally, a majority of patients will be appropriately enhanced with the medium profile implants.
I have found that high profile implants tend to suit shorter, smaller framed women with a narrow base width. Conversely, low profile implants are great for upper pole fullness in augmentation mastopexy, or to add fullness without the added projection in women with adequate breast tissue.
6. Don't Get What She Has
Another common comment is "my girlfriend has 400's so I think I should get the same because they look great on her." But the operative words here are "on her." Even though you and your friend may seem similar in terms of body size there are too many other factors that must be considered to make such a blanket statement. Think of this process as the ultimate in customizing, so be open to needing a different size or style implant.
7. Use Implant Sizers
Sizers are silicone gel implants that can be used in the office to give patients an idea of what they can expect after surgery. Wearing a tight sports bra while trying on sizers gives better compression and thus a slightly more accurate idea. However, sizers tend to sit lower in the bra than breast implants, so your surgeon needs to guide you while trying them on. They aren't perfect but they do give a good estimate of postoperative size.
8. Bring a Friend to Your Consultation
I tend to spend a lot of time, during all of my consultations, educating patients on all areas related to breast augmentation. Because there is a lot of information to digest, patients don't always hear or remember everything that I tell them. Having a friend or relative with you during the consultation increases the amount of information that is attained. In addition, these friends, if they understand your desires, can lend another set of eyes that can help determine the best implant.
9. Don't Be Afraid to Visit Your Surgeon More Than Once
At the initial consultation, patients and I will decide on the correct implant together. If there is doubt, it can usually be clarified at the preoperative appointment. Occasionally, patients have difficulty visualizing the postoperative appearance of their breasts, even with the sizers in. They're simply not accustomed to the new look and have difficulty determining if the implants they have chosen are exactly what will give them the appearance they have envisioned.
In these cases, I have the patient see me for an additional appointment or more until they are confident in the choice of implant. Although most surgeons don't do this, don't be afraid to visit your surgeon on a separate occasion. Bring different outfits so you can see the full effect the surgery will have.
10. Don't Let Your Surgeon Tell You What Size You Should Have
I have found through my work with websites like RealSelf.com that patients are often left out of the decision-making process or simply allow their surgeon to determine the correct implants, only to be disappointed with the outcome. Determining the correct implant must be a collaborative effort between patient and physician. Use your surgeon as your guide. Use his knowledge, sizers, and experience to come to a conclusion that is appropriate for you.