Breast Augmentation Surgery
Breast Augmentation in Northern Virginia
Many women seek to have larger breasts, or to restore breast fullness and projection after weight loss or pregnancy. Since individual patient goals vary, breast augmentation surgery offers a variety of breast implant sizes, shapes, and incision placement options.
Common Breast Augmentation Questions:
---
What is the cost of breast augmentation surgery?
In our Fairfax, Virginia plastic surgery office, the cost of breast implants generally ranges from about $5704 for saline implants to $6704 for silicone implants. The newer silicone gel implants cost more than saline, and some patients may have requirements which change the cost slightly. We do offer financing through CareCredit and accept credit cards for surgery. Read more about financing cosmetic surgery.
Who is an ideal candidate for breast augmentation?
Ideal candidates for breast augmentation have realistic expectations, understand the surgery's limitations, and are emotionally mature. It is important to remember that as you increase from your original cup size, your breasts should appear more in proportion to your body. An excessive increase will result in disproportion and an unnatural appearance. During your consultation with Dr. Hess, you will discuss your goals and expectations for breast augmentation. Dr. Hess will be able to demonstrate what you will look like with various sized implants so that you can make an informed decision.
How do I choose the right implant size?
Today's breast implants and surgical techniques can deliver a very natural look that balances body proportion. Both silicone gel and saline implants are safe and reliable options for breast augmentation. Individual anatomy must be taken into consideration for each patient, and people are often naturally asymmetrical, requiring two slightly different sized implants to achieve symmetrical results.
The same sized implant may also look different in different people. At Hess Plastic Surgery great care is taken in working with each patient to measure, assess and design the outcome, before surgery.

Breast Augmentation Before and After Pictures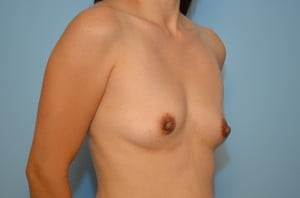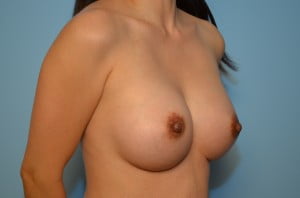 These images contain nudity.
Click to verify you are at least 18 years of age to view.
Should I choose saline or silicone implants?
Saline and silicone implants are the two options available to you, and each has relative advantages and disadvantages. It is important to carefully weigh your options and discuss this with Dr. Hess before making your final decision.
Where are the incisions made during breast augmentation?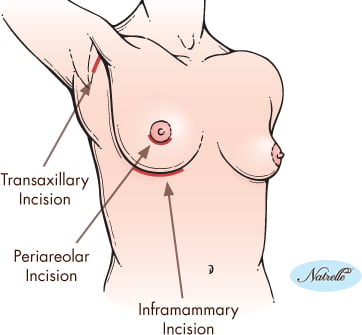 The type & size of your breast implants, combined with the natural shape of your breasts, will determine how noticeable your incisions are. Generally, Dr. Hess makes the incisions under the breast slightly below the existing crease, which makes them less noticeable, or around the nipple/areola.
It is also possible to place the incisions in the armpit or belly button. However, these two incisions do not offer enough visualization to appropriately place the implants. In addition they may be more noticeable, especially the armpit incision, and if a complication occurs, it may be necessary to make a new incision under the breast or around the nipple/areola.
What is breast augmentation recovery like?
Immediately after surgery, most patients experience mild swelling and some discomfort. Many patients are able to resume desk work after as little as two days after breast augmentation and gradually resume exercise after 3 to 4 weeks. While you will have an immediate increase in breast size, t is important to remember that it can take a few months for final results to settle in, as your body adjusts and heals.
Can I have a breast lift during augmentation?
Many women who want breast augmentation, especially moms, will benefit from a breast lift as well. In the same operation, Dr. Hess can place breast implants while performing a circumareolar breast lift.
Are you looking at multiple procedures?
Breast Augmentation is included in the list of procedures for the Mommy Makeover.