The Surgical Art of Facial Rejuvenation – Fairfax, Northern Virginia
As people get older the signs of aging is first noticed in the appearance of the face. The sagging of the face with deep creases below the lower eyelids becomes apparent. Fat in the cheeks begins to show the affects of gravity and with the loss of muscle tone and structure forms the sagging jowls on the face. The loose skin and excess fat deposits under the jaw and chin can even make a thin person appear to have a double chin. If you are bothered by these signs of aging, a facelift may be right for you. The surgical procedure to improve the appearance of the face and neck is called a rhytidectomy.
Dr. Christopher Hess is a specialist in performing facial rejuvenation. He is board certified by the American Society of Plastic Surgeons and was awarded the distinction of being recognized as Northern Virginia's Top Plastic Surgeons in 2007 and by Washingtonian Top Doctors in 2008.
In these before and after images, Dr. Hess shows how a facelift can take generations off a person's face.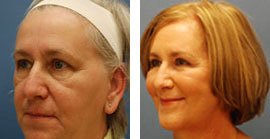 This 60 year old woman wanted to look refreshed and more youthful without looking unlike herself. She underwent upper and lower eyelid lifts, midface lift and a regular face and neck lift. Her results were astounding as she now looks almost 20 years younger.
To learn more about facial rejuvenation in Fairfax, Virginia, please contact Dr. Hess's office today by calling (703) 752-6608 or through this website by clicking here.