Lunch Lady Arms Are The Past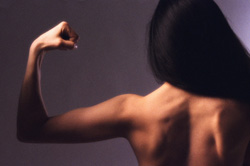 Massive weight loss, heredity and age can all contribute to excessive skin that sags and droops off the upper arms in some people known as "lunch lady arms." Building muscle mass through exercise can strengthen and help tone this area but it cannot remove the excess of skin that has lost its elasticity.
A surgical procedure to correct this problem is called an upper arm lift or Brachioplasty. This procedure removes excessive skin and reshapes the under arm of the upper arm. This helps to smooth and tighten the appearance of the arm and gives it more youthful appearance.
An arm lift is appropriate for most adults who:
Have a large amount of skin laxity under their arms.
Whose weight is consistent and are not significantly overweight
Are healthy and do not pose a medical risk to healing.
Do not smoke
Have realistic expectations of the outcomes of this type of surgery
A visible scar will be apparent after this surgery that runs down the inside of the arm. For most however, this is not very noticable and the benefits outweigh this one small drawback.
If you suffer from excessive skin laxity of the arms and wish to learn more about an upper arm lift or Brachioplasty then contact Hess Plastic Surgery today. Dr. Hess is board certified with the American Society of Plastic Surgeons and has been rated as Washingtonian's Top Doctors in 2008.