Do I have Zoom dysmorphia?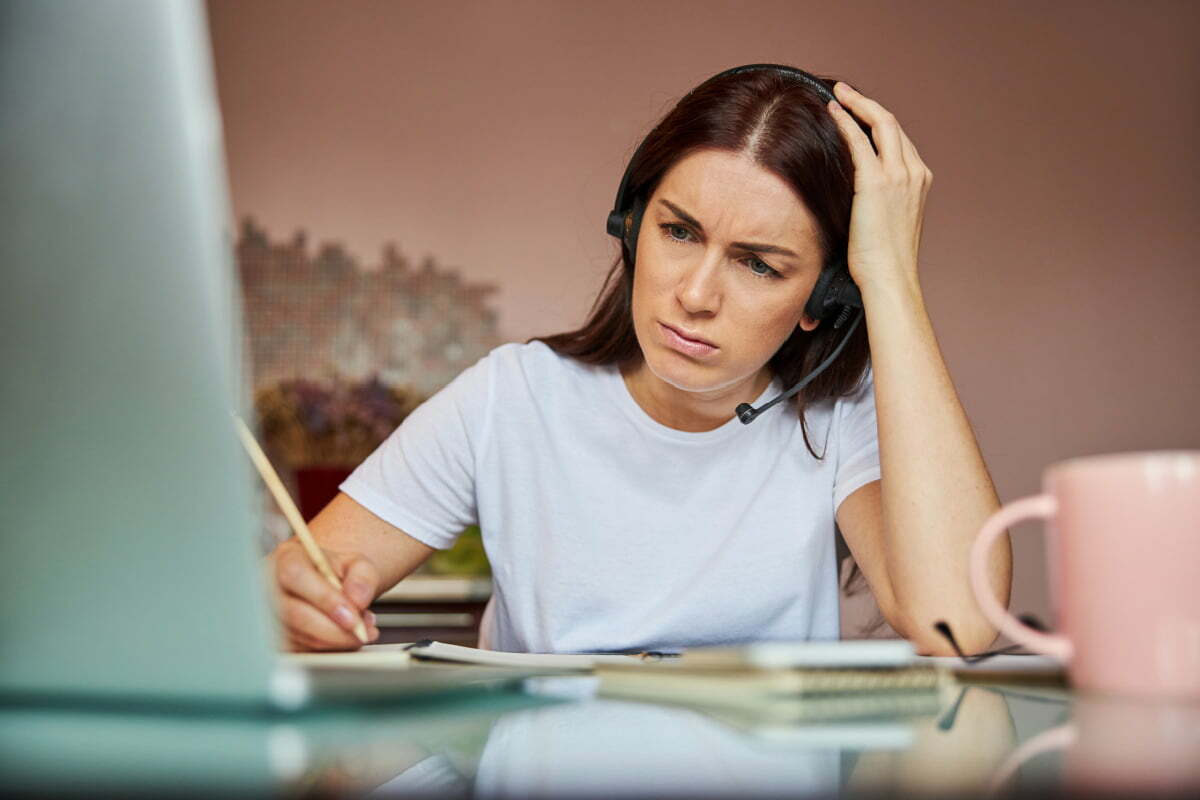 Many of us practically live online, whether in Zoom meetings during the workday or scrolling away a few free hours on social media. This pattern invites comparisons between how we look in front-facing video cameras (which are fundamentally unflattering) with influencer-generated selfies (which are staged, filtered, curated, and often misleading).
This post will help you consider whether or not hyper-awareness of appearance flaws is a case of Zoom Dysmorphia or not—and offer tips on how to separate the way you see yourself on camera from how you feel about your appearance normally.
What should I know about Zoom dysmorphia before undergoing plastic surgery?
Body dysmorphic disorder, colloquially called "dysmorphia," is a serious mental health disorder that is diagnosed and treated by a mental health professional. Dysmorphia involves a preoccupation with an element of your appearance, or multiple elements that may shift over time, and a perception that the flaw is much greater than others perceive it to be. "Zoom Dysmorphia" refers to dysmorphia fueled by seeing yourself on video calls.
If you think your nose looks too big on video calls, changing your computer setup (and not your face) may help you feel more confident.
Aesthetic medical providers have noticed an uptick in patients who say that their desire to improve their appearance was motivated by time spent in video calls. (You may have heard this phenomenon called the "Zoom Boom.") But cameras at close-up angles are not a reliable way to assess whether or not you need plastic surgery, and plastic surgery does not treat or cure body dysmorphia.
While it is common for those with dysmorphia to seek cosmetic procedures, patients with dysmorphia tend to hold unrealistic expectations for their results and are thus much more likely to feel dissatisfied with the outcome.
How can I make myself look better on Zoom calls?
A recent article published in Aesthetic Authority shares that dermatologists, like plastic surgeons, have seen a rise in aesthetic consultations during the pandemic. The article details some practical tips for coping with feelings of Zoom dysmorphia:
Keep your camera at eye level to reduce the amount of distortion of your face
Move the camera farther away from your face
Try a separate webcam that plugs into your computer and can be placed at a more flattering angle
Add a ring light to your setup
When possible, turn off your camera and join the meeting through voice
Replace time spent on social media with other activities that increase confidence
Talk to a mental health professional about other strategies
While these tips may help with passing concerns about appearance flaws, seek mental health services for persistent feelings of dysmorphia. If you believe that you or someone you know may be suffering from body dysmorphic disorder, know that it can only be treated by a mental health professional. The Substance Abuse and Mental Health Services Administration (SAMHSA) will help you find a provider in your area: call their helpline at 1-800-662-HELP (4357) or search for your location online through their behavioral health treatment locator.
How do I know if I am ready for plastic surgery?
If seeing yourself on screen in remote meetings has you considering plastic surgery, it's important to check in with yourself before planning a procedure to decide if Zoom Dysmorphia is part of your motivation.
1. Take notice if you only think about your flaw on Zoom
You may not be a good candidate for plastic surgery if your flaw only bothers you in video conferences. For example, if you think your nose looks too big, it may just be related to using the front-facing camera. In that case, changing your setup (and not your face) may suffice. It may also be possible to just ignore it, since all of us with built-in cameras (rather than fancy video conferencing setups) are experiencing this problem!
2. You may be a good candidate if you always wanted a cosmetic procedure
Hundreds of thousands of people undergo plastic surgery every year, and the process can lead to increased confidence in a number of cases:
You wanted to make a change before you started looking at yourself critically in video conferences. If the video conference simply reminded you of the procedure you have long wanted, that is a normal, appropriate rationale for seeking a procedure now.
Your signs of aging seem out of tune with how you feel. If you want to reset the clock, that is also a very typical rationale for undergoing a procedure.
You have realistic expectations for what a procedure can do for you. Plastic surgery has limits. Look at the before and after galleries of board certified plastic surgeons in your area, seeing what kind of results the surgeon was able to achieve for patients who look like you in the "before" photos.
3. Consult with a board certified plastic surgeon
Consult with a trusted plastic surgeon for a reality check. They are uniquely qualified to help you decide whether or not what you see as a flaw merits an aesthetic change, so talk to them frankly about how video conferencing instigated your interest in a procedure. This initial meeting is your plastic surgeon's chance to understand why you're seeking a procedure now and to help you understand what a cosmetic surgery can (and cannot) achieve.
Board certified plastic surgeons uphold a high standard of ethics, and if they believe you may have body dysmorphic disorder, they will encourage you to seek appropriate help from a mental health professional.
Visit Dr. Christopher Hess in Fairfax for a seasoned, board certified plastic surgeon
Seeking a sensitive plastic surgeon who truly cares about their patients and will devote time to learning about you and your goals? Schedule a consultation with Dr. Christopher Hess in Fairfax, VA. Dr. Hess is committed to safely achieving natural-looking results that increase patients' confidence. To learn more, call us today at 703.752.6608 or contact us online to schedule your consultation.