Breast Lift Scarring
One of the greatest concerns that patients express to me, during a consultation for a breast lift, is the appearance of scars.  Many women express that they want a lift but either don't want scars or want minimal scars.  I can understand this, but a thorough education into the process often alleviates concerns.
A breast without ptosis or sagging has the nipple areolar complex positioned at or slightly above the breast fold or crease.   Due to many factors such as age, increased weight, pregnancy and breast feeding the breast may sag to various degrees.  Correction of this "ptosis" depends on the patient's breast size and concerns.  For grade 1 ptosis the nipple is at or slightly below the fold.  If the patient has small breasts this can often be corrected with breast augmentation.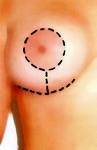 As the sagging increases different incisions are needed to elevate the nipple/areola to its normal position.
If only 2-2.5cm or about an inch of elevation is necessary the lift can be performed using an incision around the areola only.  As the areola is second only to the eyelids as the best scarring area of the body, these scars hide well.  If there is more sagging then more skin needs to be removed.  If too much skin is removed from around the areola only then significant bunching of the tissues occurs and the result is unsatisfactory.  In these cases a vertical incision is added.  And in severe sagging a transverse scar is added to remove enough excess skin.  Usually in these circumstances patients are so happy with their elevated breasts that they are willing to accept additional scars.
Breasts, as a whole, tend to so quite well with scarring.  To help the scarring we recommend using silicone to help flatten and lighten scars.  At Hess Plastic Surgery in Fairfax, Virginia we pride ourselves on reaching for perfection with each and every procedure.    Click here or call our office at 703.752.6608 to discuss breast lift with Dr. Christopher Hess.