Adding Youth to the Lips With Dermal Fillers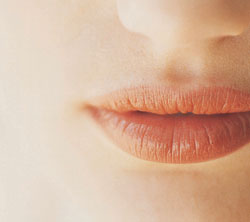 Dermal fillers go by many names such as Restylane®, Perlane®, Juvederm®, Evolence®, Radiesse® and others.  They are composed of many things such as hyaluronic acid, hydroxyapatite, porcine collagen and others.  Although the names these products are made of are Greek to most their usefulness in facial rejuvenation is unprecedented.  This is especially true in lip augmentation.
Before we had these fillers the choices for lip enhancement were collagen, fat and permanent tissues such as Alloderm® or other similar cadaveric or animal tissue.  Collagen was difficult to use since all patients had to be skin tested.  If the patient didn't react to the collagen they could be injected 3 weeks later.  Even then 4% of patients would react causing a painful reaction.  Fat has the potential to add permanent fullness to the lips.  Unfortunately, fat is absorbed by the body to a different degree in everyone.  But for the most part only about 30-40% of fat will remain 6 months after injection.  Because of this absorption the potential to end up with poor contour of the lips is significant.  Finally, tissues that can add fullness with permanence can be outstanding.  If the patient is sure what she wants and the amount of tissue inserted is correct and it doesn't get infected it can be an outstanding result.  I am a fan of using sterilized tissues for permanent lip augmentation.
My goal for lip augmentation is to create a fullness that is proportionate to the remainder of the patient's face.  The patients lips are evaluated for fullness, or lack thereof, symmetry, anatomic landmarks and function.  In addition, a thorough discussion is undertaken with the patient to get an understanding of their personality.  This is essential to lip enhancement; younger women often want larger fuller lips whereas more mature women are often more conservative.  For the average patient with decreased lip fullness I use .75cc of dermal filler in the upper lip and .25cc in the central portion of the lower lip to balance.  This will usually provide the appropriate fullness.  However, 1cc in the upper lip is totally reasonable and is something I often do.  Unfortunately, the lips are very sensitive to injection.  So although you may look similar to Goldie Hawn in "The First Wives Club" immediately after injection, this will resolve within 18-24 hours leaving you with lips that are an appropriate fullness for you.
Every patient has to evaluate the physician that they seek for cosmetic enhancement.  The artistic and technical ability of that physician should be questioned.  For all patients in Fairfax, Reston, Gainesville, Loudoun, Arlington, Alexandria, Manassas and anywhere in northern Virginia please call our office for a complementary consultation.