CoolSculpting® "Fat Freezing"
CoolSculpting® for Non-Invasive Fat Reduction
Now Available in Northern Virginia, Washington DC area

As seen on The Doctors and Dr. Oz, the "fat freezing" technology known as CoolSculpting by ZELTIQ is now FDA approved for non-invasive fat reduction.
The CoolSculpting procedure combines the science of Cryolipolysis with advanced proprietary engineering into the Zeltiq System. What makes CoolSculpting different from other non-invasive modalities for fat removal is its advanced cooling technology that selectively targets and eliminates fat cells gently and gradually while sparing all other tissue.
What kind of improvement can I expect from CoolSculpting?
Each CoolSculpting procedure results in a 20% reduction of fat on average in the treated area. Most patients can begin to see results as soon as three weeks after treatment, with the most dramatic results occurring over a period of two to four months. CoolSculpting is FDA cleared for fat reduction on the love handles and abdomen, but can also successfully treat areas such as back fat, arms, thighs, knees, and male chests.
How much does CoolSculpting cost in Washington DC?
Treatments begin at just $600 per area. The total cost of your Zeltiq treatment will depend on the number of areas you would like to treat and how many treatments you need. Compared to liposuction, CoolSculpting is a terrific alternative for many patients that costs less and has little to no down time.
Natural, Gradual Fat Reduction
The CoolSculpting device controls the rate of energy extraction or cooling during the procedure, resulting in a reduction in fat that is visible in two to four months. Fat cells in the treated area are gradually eliminated through the body's normal metabolic processes.
Is there any down time with CoolSculpting?
With this non-invasive "fat freezing" technology, there is no need for needles, no incisions, no anesthesia or pain medications, and no recovery time. Patients are able to resume normal activities immediately following the procedure.
How CoolSculpting Works To Reduce Body Fat
Using a specially designed cooling applicator, the CoolSculpting device is applied to the desired area of fat reduction to extract energy (cooling) from the underlying fat tissue without damage to other tissues. A gentle vacuum pressure draws the tissue between the cooling panels, delivering precisely controlled cooling conditions that have been proven to target and eliminate fat cells in specific areas of the body. As your fat cells are exposed to precise cooling, they trigger a process of natural removal that gradually reduces the thickness of the fat layer.
How CoolSculpting is Even Better Today
The most effective non-surgical fat reduction treatment is gaining headway with new upgrades to the technology. The applicator required for treatment is evolving to attack more fat cells at the same time and be more capable of treating the most difficult trouble areas.
The results in these areas are exciting, however in the past it has been a challenge to place the device head right where we want it. The new upgrade, called the CoolFit applicator, boasts nearly 40% greater size in the cooling plates, yet a smaller design to fit properly on arms, inner thighs, common areas where patients demand treatment.
While nobody has complained about the original method of treating these areas, we are confident that CoolSculpting will be even more effective with this new design.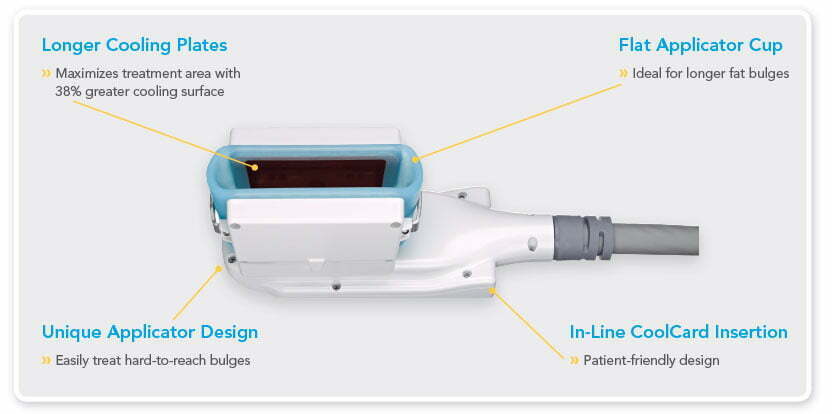 Achieving greater reduction and a more comfortable and appropriate fit, this advance will improve both your experience and your results.

CoolSculpting in Washington DC and Northern Virginia
To learn more about CoolSculpting and if the "fat freezing" procedure is right for you, contact Hess Plastic Surgery in Fairfax, VA for a free personal consultation.
Call 703.752.6608 to schedule your consultation with Dr. Hess.